You are more and more female runners. The love of sports and physical activity is a fact, especially when we talk about running, popular races or whatever we want to call it.
This love of running grows year by year. But, the most exciting thing about the situation is that the number of women who choose running as their preferred activity for health care is growing almost exponentially. Here I refer to some figures that demonstrate this fact:
Currently almost 40% of runners in Spain are women.

Between 2010 and 2016, the number of female runners increased by up to 60% in some races.

In Madrid in 2004, 3,500 women ran the women's race.

Last year there were more than 17,000.
These data overwhelm the statistics of the participation of men, which despite having more male participants in general, their growth has stagnated in recent years.
Therefore, the question you should ask yourself is: if I am a woman, should I train like a man? The answer is no. The trainings and stimuli in general will be very similar, but we have to take into account the factors that are unique to each gender. And that I am going to explain to you next.
MAIN ANATOMIC DIFFERENCES BETWEEN MEN AND WOMEN

RUNNERS
There is evidence that the chances of injury in a female runner compared to a man are almost double. These differences were found by analyzing the anatomy and running technique of each of them (from Wijer et al., 2015).
Starting from the exhaustive analysis of the human anatomy, we find the following differences:
Hip width and Q angle
Women have wider hips than men. This is because you are ready to give birth. Being mothers, and living one of the best experiences of your life affects the entire structure of the legs, from the hips to the feet.
And for this reason, it is common to see a more pronounced Q angle in women than in men.
The Q angle is the inward deviation of the knee, caused by excessive internal rotation of the hips and external rotation of the tibiae. Colloquially it is called: knees in X. We have already indicated that this situation is quite common among you, since it manifests itself in almost 70% of the female population
This inward deviation of the knees can be a decisive factor in the development of injuries in runners. But for this, we must see if the knee is directed towards the center of the body in a dynamic situation , while running (Burke et al., 2016). It is useless to evaluate this angle in a static situation, if what we want is to run.
When the knee deviates inward at the time of contact with the ground (Illustration 1), a potentially damaging mechanism is reproduced in the long term.
This means that, if this mechanism is repeated during 50 minutes of running 4 times a week, the pressure will increase in different areas of the knee.
For example, a very common pain derived from an excessive dynamic Q angle is the iliotibial band syndrome, better known runner's knee, normally detected by a constant tension on the external face of the patella.
Pronation of the foot
One of the main problems derived from the knees being directed inwards, and also manifested in the tread, is the pronation of the foot.
Foot pronation is the inward deflection of the foot at the moment of contact. Like the Q angle, in runners it is much more important to assess the pronation of the foot in the race.
This situation is usually caused by a lack of strength, control and stability of the muscles and joints that participate in the gesture.
A very exaggerated pronation in running can bring us pain at the knee level, overloads in the tibial and peroneal twins, tension in the Achilles tendon. These are problems that we see every day in the popular corridor (Moen et al., 2012; Tateuchi, Wada, & Ichihashi, 2011).
Other differences between male and female runners
Average of fat
In general, women have higher levels of fat and lower levels of muscle than men. This is due to the low concentration and production of testosterone with respect to men.
Therefore, there will also be a low production of growth hormone, so necessary for muscle growth.
But, it's not all going to be bad news! Women runners can benefit from several things simply by the simple fact of being women.
Thermoregulation
Women are more efficient using fat as energy, when you run and you need calories to be able to continue, you throw away more fat than men, which is a very important factor in endurance sports, because fat is also a source of energy Very powerful .
You also better protect yourself from the cold. This is due to more use of fat and less sweating. Therefore, if you sweat less, you lose less water, something vital in endurance tests where dehydration can lead to abandonment, and often not only to abandonment, but to more serious problems.
Endurance
And if! You are also more resistant!
In a study comparing male and female runners running 10, 21, 42 and 90 kilometers, it was found that women were able to maintain a higher percentage of their maximum oxygen consumption (VO2max) during the 90K test, instead in 10.21 and 42 kilometers there were no differences between men and women.
VO2max is one of the most important variables of running performance, maintaining a high percentage of VO2max means maintaining a higher intensity for longer .
Speaking in Christian: women endure more in ultra-resistance tests than men.
As a good runner, I always like to say to show off: running is a manifestation of strength. When completing a 10-kilometer race we take about 8,000-10,000 steps. This is 8,000-10,000 times that we are applying force against the ground in order to continue.
So my question is: Who is stronger the woman or the man?
It will depend on the type of sport, the duration, the muscular demands … but, affirming that men are stronger than women per se is a very common mistake. The following article shows a real example of what we are talking about.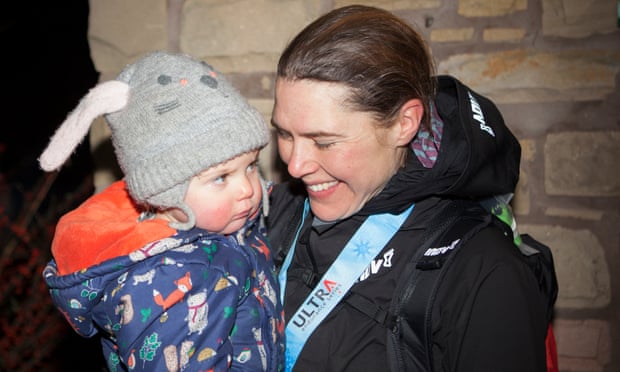 See the news about Jasmin Paris here: https://www.theguardian.com/sport/2019/jan/17/jasmin-paris-first-woman-win-gruelling-286-mile-montane-spice-race-ultrarunning
WHAT CAN WOMEN RUNNERS DO TO IMPROVE YOUR TRAINING?
Surely when reading this article, you are thinking that I want to scare you by explaining so much problem. But rest assured, solving these problems is not as difficult as it seems.
Many of them go through the strengthening of the muscles involved in these movements (Q angle and pronation).
What happens in the knee and sometimes in your footprint is going to be a reflection of how your hip moves .
The knee is a joint that has only one degree of freedom of movement, this means that it only makes two movements by itself: flexion and extension. Oddly enough, the way your knee moves doesn't say much about the way you run, so the keys will go through:
Exercises for

mobilization and strengthening of the hip

that are very important to improve.

Counting mainly on the glutes and hip flexors (especially iliopsoas), and also working hamstrings (back of the thigh) and quadriceps (front of the thigh), avoiding imbalances.
I have said mobilization yes, mobility exercises looking for a balance between having good hip flexibility and being efficient .
Another good way to avoid having problems is to work on

balance, stability and the central area of ​​the body

, which is called the core.

This work will help you to be stronger and more compact when your foot hits the ground.

This way you can avoid reproducing these harmful mechanisms due to lack of strength, having a more stable footprint.

Finally, what I call the great forgotten:

the foot

.

The foot muscles represent 25% of the total muscles of the whole body.

And we never train them.

Having strong foot muscles will help you better receive the high impacts of running and prevent your foot from sinking when it hits the ground.

You will have a strong, taut foot.

The foot is an arch made to sustain you and you must be clear about it, and strengthen it properly.

This way you will get a good footprint in the race (Cheung, Sze, Mok, & Ng, 2016).
So you know, there are some problems that women have to deal with, if they want to run well, but there are also many advantages that they can take advantage of. Follow these tips and you can run more and better without any problem.
You can find more articles to run better on my blog
To continue adding kilometers. I think, then I run.
Scientific studies used
by Wijer A, van Cingel R, Staal JB, Nijhuis-van der Sanden MWG, van der Worp MP, ten Haaf DSM. Injuries in Runners; A Systematic Review on Risk Factors and Sex Differences. PLoS One [Internet]. 2015; 10 (2).
Burke TN, França FJR, Magalhães MO, Marques AP, Almeida GPL. Q-angle in patellofemoral pain: relationship with dynamic knee valgus, hip abductor torque, pain and function. Rev Bras Ortop (English Ed. 2016; 51 (2): 181–6.
Tateuchi H, Wada O, Ichihashi N. Effects of calcaneal eversion on three-dimensional kinematics of the hip, pelvis and thorax in unilateral weight bearing. Hum Mov Sci [Internet]. 2011; 30 (3): 566–73.
Moen MH, Bongers T, Bakker EW, Zimmermann WO, Weir A, Tol JL, et al. Risk factors and prognostic indicators for medial tibial stress syndrome. Scand J Med Sci Sports [Internet]. 2012; 22 (1): 34–9.
Cheung RTH, Sze LKY, Mok NW, Ng GYF. Intrinsic foot muscle volume in experienced runners with and without chronic plantar fasciitis. J Sci Med Sport [Internet]. 2016; 19 (9): 713–5.